EASY FURNITURE
Facilitate local second-hand furniture trading
DURATION
Sep 10 2017 - Jan 7 2018
ROLE
UX Designer
 
TYPE
Individual Coursework
METHOD/ASSETS
Competitive Analysis
Ideation
Storyboard
Wireframe
Lo-fi & Hi-fi prototype
TOOL
Balsamiq
Sketch
Invision
DESIGN OBJECTIVE
Optimize information entry process for used-furniture sellers.
OVERALL PROCESS
PROBLEM DESCRIPTION
As an international student who firstly arrived at the USA, the first big challenge occurred to me was not adapting to different weather, language or culture, but was the fact that there was no furniture in my apartment.
Buying a set of brand new furniture is not cost-effective particularly for people like me who regard the place as a temporary residency (i.e. short-term study/work), hence used-furniture become an ideal alternative. However, buying fine-quality furniture for an apartment effectively is more difficult than I expected.
Following are some issues I encountered while getting used-furniture.
CONCEPTS FORMING
Competitive Analysis
To understand how my competitors work, I investigated into a number of platforms for used-furniture trading including traditional local market and online platforms such as Craigslist, Amazon, Ebay, Furnishare etc. For buyers and sellers respectively, I listed several important criteria and compare different platforms to see how and how well they meet them.
Persona
I built three personas and one anti-persona to help understand user needs as they look for second-hand furniture.
DESIGN OBJECTIVE
After studying competitors and digging deeper into the used-furniture trading business, I realized that many of the issues that I had actually resulted from a combination of various aspects: business model, market needs, retail chains, delivery methods etc. While I cannot do much to many of them, I believe that design can help improve the quality and authenticity of product descriptions, which are input from sellers. More specifically, I identified the goal of my design as optimizing information entry process for sellers, in other words, help sellers enter information accurately and effective way.
HOW SELLERS WORK
I created a flow chart to understand the process that a seller will go through when he/she posts a listing for used-furniture.
WHAT FEATURES ARE NEEDED? - RAPID PROTOTYPE STAGE
After understanding the workflow of sellers, I identified several key features that might facilitate the data entry process. I then used several pieces of paper, a pen, a deck of post-its and a plastic sheet and prototyped these features in a quick and dirty way. I discussed my design with three classmates and got good feedback from them.
One interesting idea that came out from our group discussions is that the system could help sellers fill out product information if the item was initially bought online - in this case, the item description must be available online and why do we ask sellers to enter them again?
HOW FEATURES ARE PRESENTED? - WIREFRAMES
After reflecting on the user feedback alongside with self-criticizing by applying Questions, Options and Criteria(QOC) analysis, I produced wireframes which outline structure and layouts of the website. Again I asked for feedback from my classmates. This time the feedback focus on logic of pages and methods of presenting these features.
TO MOCKUPS AND TO PROTOTYPES
After ensuring all the necessary features are covered in the wireframe and the pages flow logically following sellers' workflow, I started working on mockups using Sketch. Later I brought them into InVision and added interactions. You can view the prototype here and below are three highlights of my design.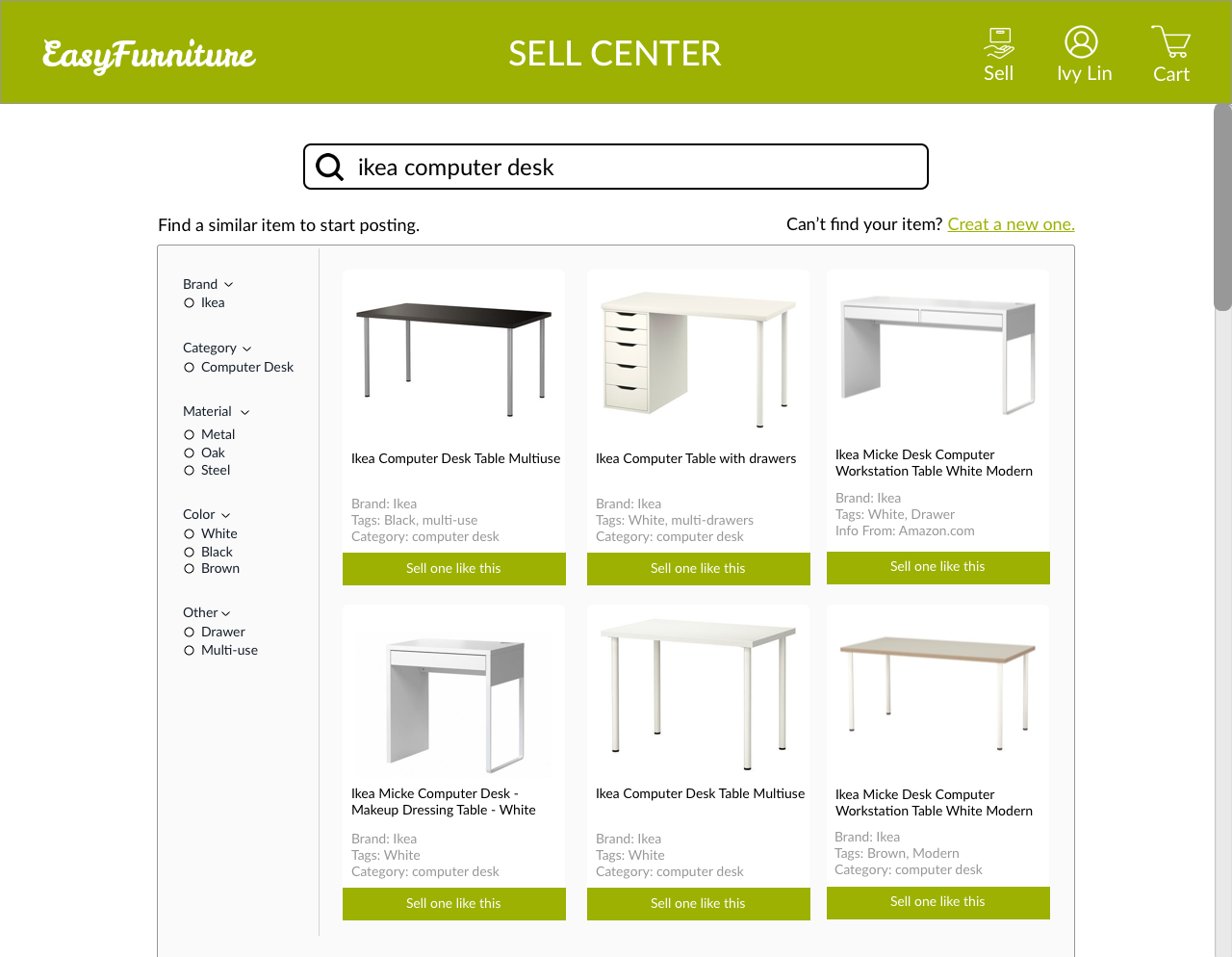 Sellers can search items that they initially bought online to get their information, which will be used to fill in the product description for listings. It ensures the accuracy of information and saves users time.
Sellers need to review information got from the Internet and make changes based on what they actually have. Information that is likely to be changed are images, conditions, prices, etc.
Powerful Image Editing Tool
One good image can save thousands of words. With powerful image editing tools, sellers are encouraged to provide better-quality images.
REFLECTION
Scope Project Properly
When the project firstly started, I was obsessed with the idea of designing a brand new website for used-furniture trading. In other words, I was attempting to design an Ebay within one semester. I am glad that I woke up early enough and narrowed down my scope in time so that I completed my project and passed the course. This experience taught me the importance of defining project scope with time and resource constraints in mind. I need to be realistic and honest about my own abilities as well as understand boundaries of the project to hit the goal.
Dig Deep and Reveal the Hidden Link
As I complained earlier, I, as a buyer, encountered many issues while finding second-hand furniture. To solve my (buyers) problem, I went through a number of process and then realized that the problem can be alleviated from sellers side. Then the design question turned from "how to improve buyer experience" to "how to optimize sellers' data entry process so that buyers experience can be improved". I find this kind of deduction fascinating.